On a particularly overcast and rainy day in late April 2018 at GDF's Timehri shooting range, local practical shooters threw on their rain gear, extra shoes and headed out to the start positions, where the Guyana Sport Shooting Foundation hosted a Practical Pistol competition. This Match was kindly sponsored by NVR Security Services Inc. of Lot 160 Section 'D' Non Pariel, East Coast Demerara.
Competitive shooters came out and safely combined the three principles of practical shooting, managing power, shooting accurately and doing so in a speedy fashion with firearms of a certain minimum caliber (9mm) to score as many points as possible during the shortest amount of time.
In this particular shooting discipline, there are dynamic stages that see target arrangements in various scenarios, and the courses are often designed so that the shooter can shoot targets in a freestyle fashion, and therefore the solutions of exercises sometimes varies between shooters.
Competitors were all very eager to show off their skills in handling and safely using handguns while also navigating between the set stage props and engaging targets in the four stages that made the GSSF April 2018 Practical Shooting Match. These stages required the competitor to shoot as accurately as possible multiple targets that were setup in various scenarios, while moving to various points and positions and all while striving to do so in as fast as possible. Points were deducted for any misses and hits on no shoot (penalty) targets.
As the Match Director and President of the Foundation, Mr. Ryan McKinnon welcomed participants and spectators to the Match, shooting commenced mid-afternoon and due to the efficiency in the match running, was completed before sun-down.
The first stage called "Services" required the shooters to engage 2 paper targets, 1 Popper and 3 falling plates. This stage got the shooters' trigger fingers warmed up in the chilly weather and set to continue in the afternoon.
The second stage called "NVR" consisted of 9 classic targets and 1 no-shoot that was located just above the furthest target. Any hits on NS targets would attract a penalty of -10 points per hit. Shooters had to start standing relaxed on a start line some way off then run forward to either the right or left of screens set-up to simulate walls. There were various openings along the way where shooters had to strategise the best position to stop to engage targets in between.
The third stage "Security" was adjudged as the most fun stage with a start position laying flat on back with one hand on each side of a line demarcated on a make-shift bed, with the gun unloaded and placed on either table. The stage consisted of 7  classic paper targets and 2 poppers. Upon the start signal, shooters' mobility was tested to get up quickly, safely retrieve the firearm and move forward to engage the targets from behind screens on either side and through a window.
The fourth and final stage named "Inc" was declared the most challenging but fun stage. This stage saw shooters engaging 11 paper targets surrounded by three NS targets, shooting while on the move, giving consideration to ideal shooting positions, even where to reload because of the rounds required was a factor all while dealing with the pressure of the clock. Some shooters were observed to be very creative while moving to various shooting locations in the stage prior to a number of the five poppers and four plates.
Scoring was tallied by the official scoring software for the sport and done by Stats Officer Mrs. Vidushi Persaud-McKinnon who released the results below.
Overall match Results are as follows:
Production Division:
1st Place 365 Points - Ryan McKinnon
2nd Place 256 Points – Michael Blake
3rd Place 204 Points – Andrew Phang
Limited Division:
1st Place 353 Points – Rajiv Latchana
2nd Place 312 Points – John Phang
3rd Place 276 Points – Mohamed Qualander
President of the Guyana Sport Shooting Foundation, Mr. Ryan McKinnon delivered the Vote of Thanks at the end of the Match when he expressed thanks to the exclusive match sponsor NVR Security Services Inc. and the company's Managing Director Mr. Rajiv Latchana.  
The GSSF would like to extend its sincerest gratitude to the GPF, Deputy Commissioner Ramnarine, Assistant Commissioner Hicken, the OC TSU and the ranks of the GPF Armoury and TSU. Additional thanks are extended to Brigadier Patrick West and the GDF for the use of their range facility at Timehri and to Mr. Harold Hopkinson for the use of his personal props, steel plates, poppers and targets stands all of which made this match possible.
For more information on the G.S.S.F. please visit our website www.GuyanaSportShooting.com
(In Photo below competitors and prize winners: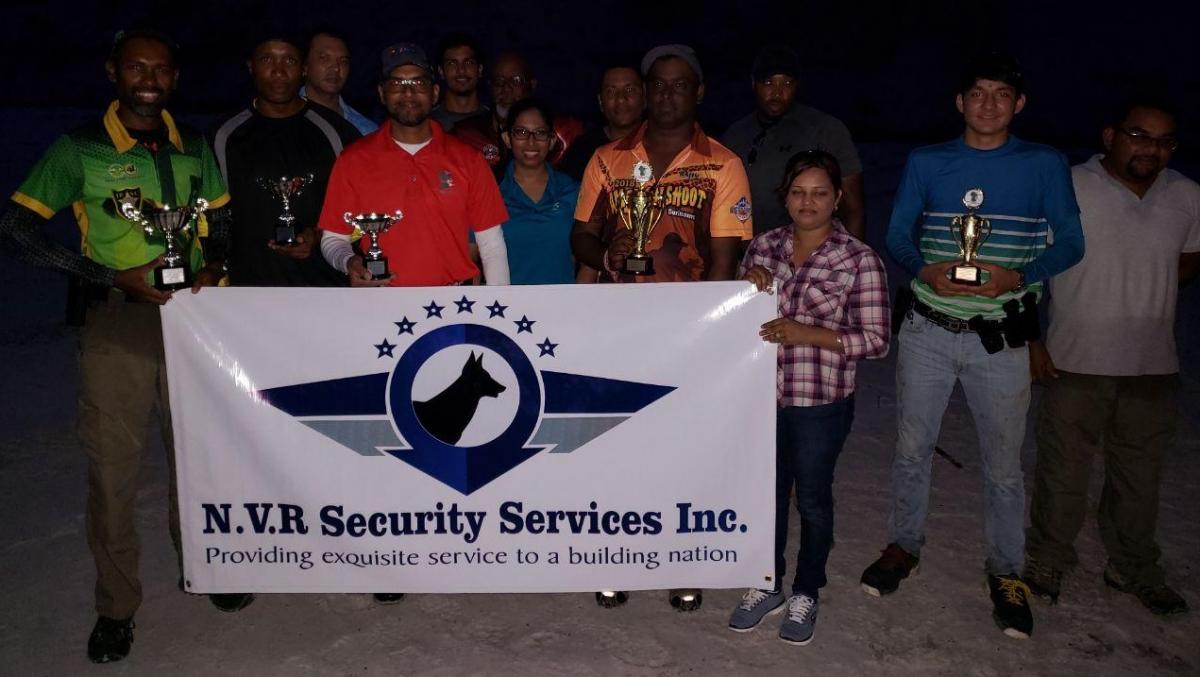 Limited Division Winner Mr. Rajiv Latchana receiving his trophy from Mrs. Nalini Latchana, Company Secretary, NVR Security Services Inc.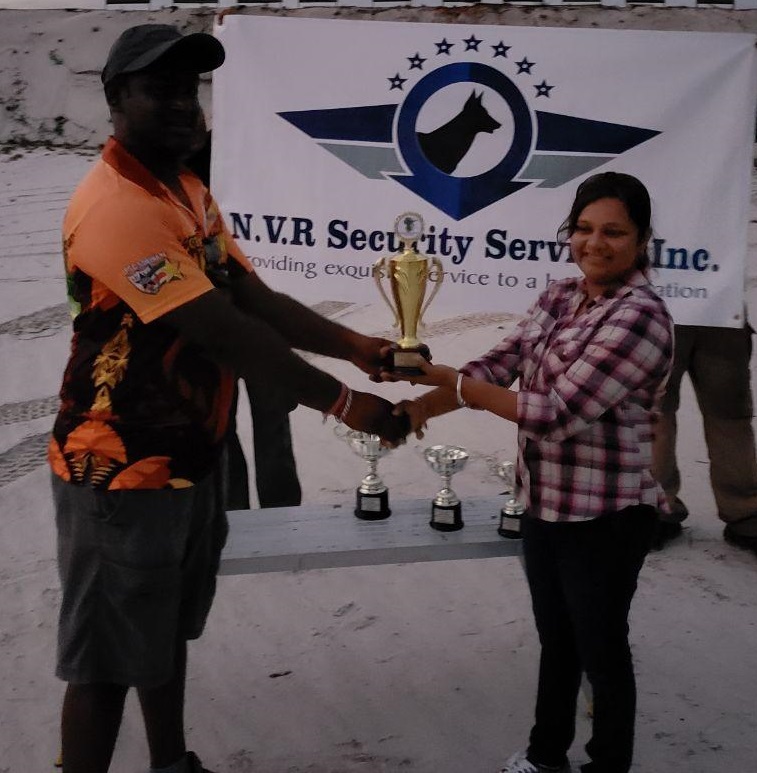 Production Division Winner Mr. Ryan McKinnon receiving his trophy from Mrs. Nalini Latchana, Company Secretary, NVR Security Services Inc.