Inaugural DIG INC.'s sponsored STEEL CHALLENGE MATCH deemed a success
Husband and Wife Winners of Inaugural DIG INC.'s sponsored STEEL CHALLENGE MATCH
The McKinnons created history last Saturday when husband and wife, Ryan and Vidushi, emerged 1st place winners in their respective divisions (Limited and Production) in the Inaugural Dental Imports Guyana Inc's Tier 1 Steel Challenge Match at the Timehri Ranges.
Scoring was efficiently conducted by Stats officer, Dr. Pravesh Harry using a specialised scoring application and uploaded to the Practiscore website. Shooters competed against each other in 3 stages: Smoke & Hope, Showdown and Roundabout.
Competition was particularly high in the Limited Division with the CZ Shadow 2's showing what it's capable of. After the smoke cleared the local steel challenge champ McKinnon secured the win once again, finishing more than 6 seconds ahead of the blazing young Phang who worked himself up the rankings this match to pass Harry by just over 2 seconds. Overall Match Results of the G.S.S.F. Steel Challenge Competition sponsored by Dental Imports Guyana Inc. are as follows.
Limited Division
1st – Ryan McKinnon (47.20 seconds)
2nd – John Phang (53.86 seconds)
3rd – Pravesh Harry (55.09 seconds)
Production Division
1st – Vidushi Persaud-McKinnon (73.81 seconds)
2nd – Rajiv Latchana (85.51 seconds)
Beautiful trophies together with the presentation of shirts to the winners was made on Saturday 8th September, 2018. Dr. Pravesh Harry in the Closing Ceremony reiterated his pleasure at being able to sponsor a Guyana Sport Shooting Foundation's Steel Challenge match and indicated DIG's  commitment to the GSSF and safe sport shooting activities.
DIG Inc., recently established by Dr. Pravesh Harry and Dr. Kevin  Jodah, is a local, efficient, and reliable dental supplies company. The main focus of the company at this point is to supply dentists in and around Guyana with a wide range of dental materials at competitive prices. The executive hopes that the company becomes a popular name among dentists. 
The GSSF would like to extend its sincerest gratitude to the Commissioner of Police, Guyana Police Force, Mr. Guy Nurse, OC TSU and the ranks of the GPF Armoury and TSU. Additional thanks are extended to Brigadier Patrick West and the GDF for the use of their range facility at Timehri.
In Photo below, Winners, Mr. Ryan McKinnon and Mrs. Vidushi Persaud-McKinnon in centre, On left, Dr. Pravesh Harry (3nd Place) and on right, the two 2nd place winners, Mr. John Phang and Mr. Rajiv Latchana: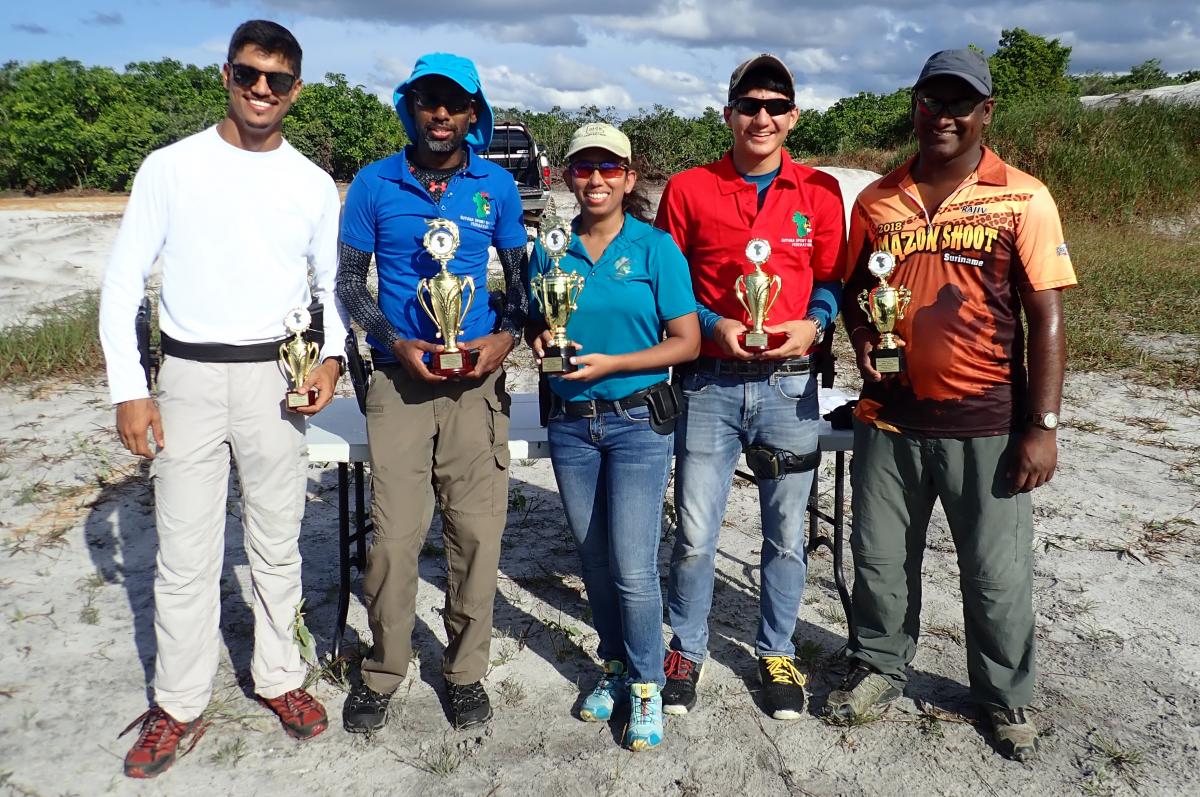 In Photo below, Winners in centre surrounded by other participants in the 2018 DIG Inc.'s SCSA Match