On Monday 20th October, 2014, Owner and Managing Director of Trophy Stall located at Bourda Market, Georgetown, Mr. Ramesh Sunich generously donated to the Guyana Sport Shooting Foundation trophies for their upcoming Inaugural Practical Pistol Match to be held on Saturday 25th October 2014 at the GDF Yarrowcabra Ranges, Timehri.
At a simple hand-over ceremony Monday afternoon, Mr. Ramesh Sunich who is well known for his contributions to the development of sports in Guyana, handed over the Trophies to the Foundation's Board members. Mr. Steve Ninvalle, Secretary of the G.S.S.F. accepted the Trophies on behalf of the Foundation and thanked Mr. Ramesh Sunich for his involvement in and support of sport shooting in Guyana.  
Ms. Vidushi Persaud, President of the G.S.S.F. thanked Mr. Sunich for his un-hesitating support and encouragement towards the GSSF which is dedicated towards encouraging and promoting practical shooting amongst all Guyanese. She referred to the recent Match Invitation issued by Mr. Ryan McKinnon, Assistant Secretary/Treasurer and noted that the Rules for the upcoming Match will be in accordance with latest Handgun Rulebook. The divisions which will be recognised are Production & Standard. There will be Prizes for the top three overall in each division. She thanked Mr. Sunich for the beautiful trophies which will be very much coveted on Saturday.  
Vice-President of the G.S.S.F. and Match Director, Mr. Michael Blake indicated that the Match will be open to all established Practical Shooters of Guyana. Pre-registration is recommended so the Practical Shooters who are interested in having some safe sport shooting fun, please contact any Executive member of the GSSF or check the website which will soon be live, www.guyanasportshooting.com for further details.   
Practical shooting is a sport that simultaneously measures the ability to shoot rapidly and accurately with a full power handgun in a fun, fair, safe, competitive environment. Three elements – speed, accuracy and power – form the three sides of the practical shooting triangle. Each match measures a shooter's ability in all three elements.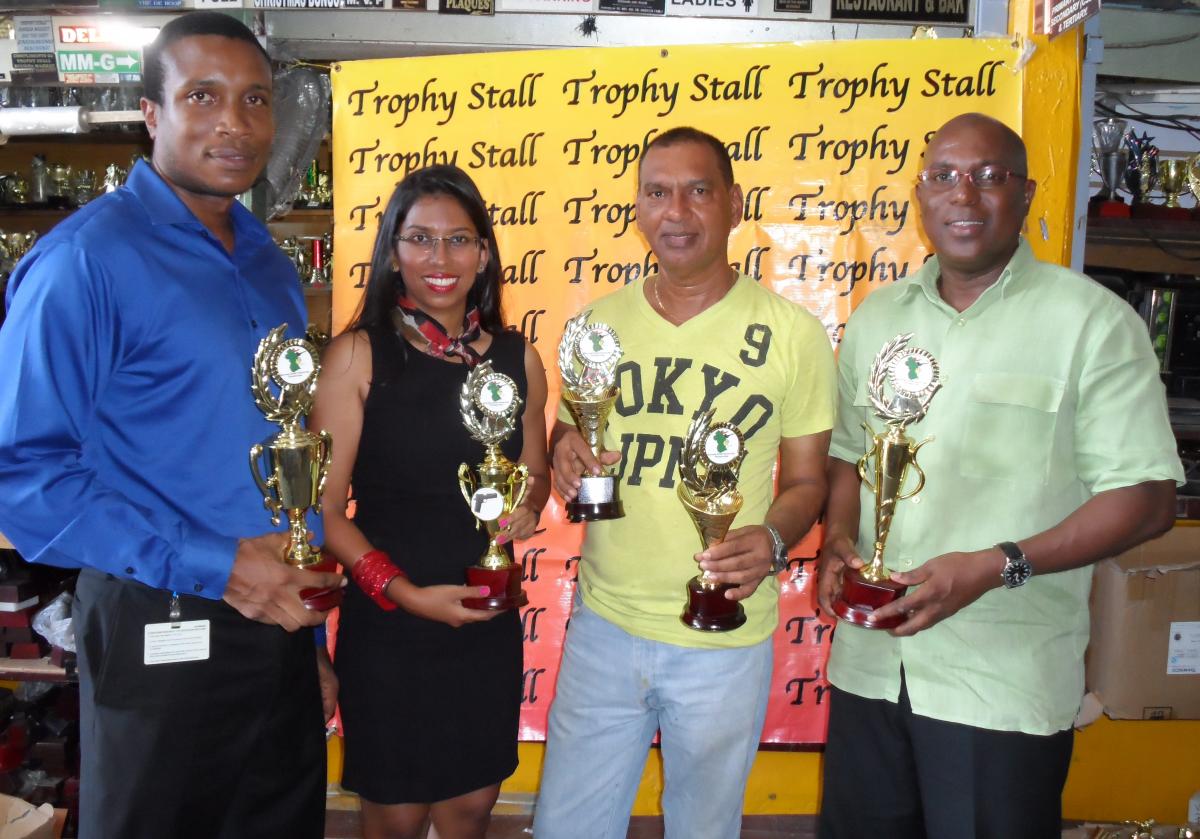 In Photo from left to right: G.S.S.F's. Vice-President Mr. Michael Blake, President Ms. Vidushi Persaud, Trophy Stall's Managing Director, Mr. Ramesh Sunich and G.S.S.F.'s Secretary Mr. Steve Ninvalle.