Trapshooting is a specific form of clay target shooting utilizing shotguns. It is a game of movement, action and split-second timing which requires the accuracy and skill to repeatedly aim, fire and break the 4 1/4 inch clay disc which are hurled through the air at speeds reaching approximately 42mph.
Trapshooting's continual growth and expanding popularity since its beginning as a sport in 1793, is due to the fact that people of all ages, incomes and abilities can compete.  These include people from all walks of life, inventors and businessmen, sports figures in other sports, professionals, farmers, truck drivers, musicians, actors, students and housewives. This is often used as a foundation and stepping stone towards one of the most difficult Olympic shooting disciplines which is Olympic Trap.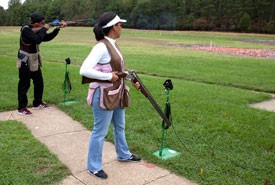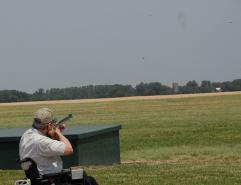 The Basics
The shooter is required to shoot at a target after he calls "pull." If the target is hit it is referred to as "dead." It does not matter in scoring if the shooter hits only a small piece of the target or whether it is totally shattered. The target is considered "lost" if missed.
Registered trapshooting is competition that is regulated by the Amateur Trapshooting Association to which the Guyana Sport Shooting Foundation is an affiliate. Detailed records are kept for each registered shooter, which are in turn used for handicapping and classifying shooters.
In registered trapshooting, the rules specify that targets must be thrown no less than 48 yards no more than 52 yards and should be between 8 and 12 feet high and 10 yards from the trap. Shooters stand a minimum of 16 yards from the trap houses.
| | | |
| --- | --- | --- |
| The Target |   |   |
| |   | Clay Targets measure 4 5/16th inches in diameter and 1 1/8 inches high. Properly presented by a good trap machine, they can be broken with as little as one shot pellet.  |
|   |   |   |
| The Machine |   |   |
| |   | Today's trap machines are highly sophisticated and very expensive. They are manufactured to throw one target for singles and handicap or two targets for doubles. Pictured on the left is a Super Star trap made in Sweden and used by the PSSA at Elysburg. It is completely automatic and no one is required in the trap house to set targets as was required for over 100 years.  |
The Guns
There are 4 kinds of shotguns you can use for trapshooting. They must be no larger than 12 gauge. The four kinds are over and under, single barrel, automatic and pump action. Guns with pistol grips are not recommended for trap shooting




Disciplines
Singles
Singles is considered to be the easiest of the three disciplines. In singles, the shooter stands 16 yards away from the center of the "trap house" and shoots at random targets that fly at various angles in front of him/ her. Shooters are grouped into squads, usually made up of up to five people. There are five positions that each shooter shoots from, five shots per position, totaling to twenty five shots or one round. This gives participants a different view of the target flying through the air. Each position is a constant 16 yards from the trap house, each one is spaced three feet apart forming a small arc. Squads rotate between four trap fields called a "bank." Each round consists of 25 targets shot from 5 different stations, 5 targets per station.
Handicap
Handicap is considered the most prestigious event in trapshooting. As in other sports, handicapping strives to make the competition equal. This is accomplished by having the more skilled competitors stand further away from the trap house. Based on a shooter's past performances, a shooter is assigned a handicap distance which he/she must shoot. A competitor with a high handicap will shoot no closer than the 18 yard line, while the most skilled shooter is placed at the 27 yard line depending on your ability. Each round consists of 25 targets shot from 5 different stations, 5 targets per station.
Doubles
As the name suggests requires the shooter to shoot at a pair of targets launched together from the machine. Each round consists of 25 pair of targets shot from 5 different stations, 5 pair of targets per station and shooting is done from 16 yards.
Safety
Gun safety is always #1 while trapshooting. Some simple rules include:
1. Never move from station to station with a loaded shell in your gun.
2. Always keep the gun pointed downrange.
3. Never carry a loaded gun when not on the firing line. 
4. Be alert to trap staff leaving the trap house while the round is in progress.
5. You must keep the action open on your gun at all times while moving to and from the trap line as well as moving from post to post.
6. Ensure the gun in good mechanical condition.
The Next Step
You may now be interested in shooting ATA Trap. Well your next steps are simple. Firstly, become a member of the Guyana Sport Shooting Foundation or get registered with an affiliated club or organisation that shoots registered ATA.  New shooters will be required to take an orientation seminar before taking part in the events. If you are already affiliated to an ATA organisation you can find the schedule on the website www.guyanasportshooting.com. Register with us for which event you want to attend and head to the range. See you out there.
References:
www.pssatrap.org/newshooter.htm